ALL LEVELS: Chair Dance


June 5 (Friday) at 5:45 pm (GMT-07:00)
Online Class
CANCELLED
Location
ZOOM (pole NOT needed)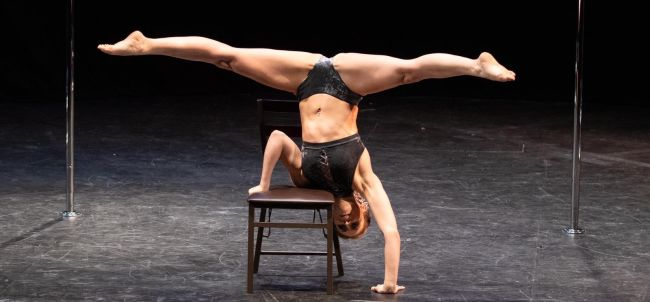 What if strip clubs had chairs in place of poles?
Do you have a folding chair, desk chair, dining room chair? Great! Let's get sexy and slinky all over that thing! You'll learn some light acrobatics and fun chair work, covering the basics of transitioning from chair and floor tricks, while maintaining the flow of a routine.
Optional attire: knee pads, long socks or yoga pants; shoes or barefoot. Modifications will be given if needed. All levels welcome!
Add to calendar
06/05/2020 17:45
06/05/2020 18:45
America/Los_Angeles
ALL LEVELS: Chair Dance - Pole Buzz @ Queen Bee's - Nadine
Online Class
ONLINE Class: Join URL is https://zoom.us/j/94505407778?pwd=cFZBQWFlNHY5ZnN0TGFvWml3NEtjUT09 - <div><br></div><div><strong><em><img width="650" height="302" class="fr-fil fr-dib" src="https://res.cloudinary.com/punchpass/image/upload/v1585684220/client_emails/bvvbilf4kfz7bbd4bj6e.jpg"></em></strong></div><div><strong><em>What if strip clubs had chairs in place of poles?</em></strong></div><div>Do you have a folding chair, desk chair, dining room chair? Great! Let's get sexy and slinky all over that thing! &nbsp;You'll learn some light acrobatics and fun chair work, covering the basics of transitioning from chair and floor tricks, while maintaining the flow of a routine.&nbsp;</div><div><br></div><div><strong>Optional attire</strong>: &nbsp;knee pads, long socks or yoga pants; shoes or barefoot. Modifications will be given if needed. All levels welcome!</div>
Pole Buzz @ Queen Bee's
false
MM/DD/YYYY
1440